Expedition High Sensitivity (book, in Dutch)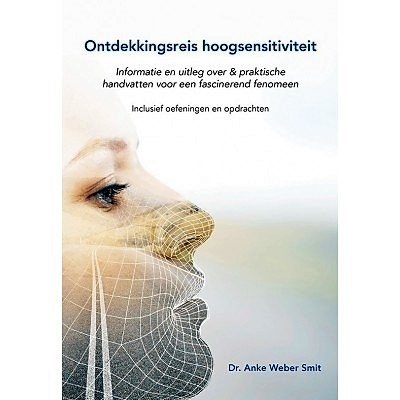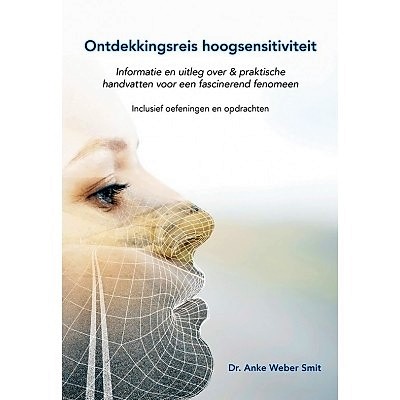 'Expedition High Sensitivity (book, in Dutch)
In this book I offer information about what (high) sensitivity (HS) is and how you can increase your potential when you are (highly) sensitive. The book is written in an accessible and practical way and offers the reader tips and exercises for a balanced life under his/her own supervision.
'Highly recommended
'Practical and accessible for a broad target group'
Also available in Dutch libraries!
In chapter 1 the subject high sensitivity is introduced and placed in a historical perspective. Anke Weber Smit describes two types of high-sensitivity individuals (HSP) that differ considerably from each other. She also reveals the most important condition for a happy life as HSP.
Body-mind interactions explained
The successive 4 chapters zoom in on themes that include health, well-being and help to teach you how to intercommunicate differently with your own thoughts and feelings. Anke Weber Smit explains relevant interactions between body and mind. She then illustrates what happens when you become over-stimulated. You discover how you can transform your inner saboteur and regain strength, and how you can take your place in relationships and in today's society. You will also learn about important issues such as avoiding energy breakers, encouraging good contacts and being more assertive.
Chapter 5 is about the (high) sensitive child. It describes how it might experience the daily hustle and bustle of school and leisure time. You find valuable information about how an HS child learns and how parents and educators can assist the child friendly and effectively. The chapter includes practical tips about how you can help your child to blossom with it's sensitivity rather than be a victim of it Also included are tips for teachers and educators.
Chapter 6 focuses on finding suitable work and summarizes all earlier findings.
In chapter 7 Anke Weber Smit describes her personal expedition.
This book gives a clear and comprehensive picture of what high sensitivity is and also highlights the biological aspects of this character trait. Aided by the personal stories that are included in every chapter, the book creates an atmosphere of easy recognition and has a low threshold for the reader to identify with his/her sensitivity.
In short: a clear, valuable and above all very practical book.


Watch the short clip about the book launching in The Netherlands (in English).
What do readers think of 'Discovery trip high sensitivity'?
"This book is a very good addition to all articles and books that already exist. It adds something new because Anke, with her background as an ecologist and experience with genetics, makes the connection between body and mind. The writing is easy to read and accessible to everyone. I think this book can help many people further. "
Milou Toonder, Captain KLM, Granddaughter of Marten Toonder 
'Extensive and practically applicable information about high sensitivity, about what that is and how you can employ it. Seven chapters discuss the history and characteristics of high sensitivity, well-being, health and balance, biological explanations for body-mind reactions (over-excitement), society and relationships, child and education, self-management and (suitable) work and on the personal 'expedition' of the author and the future. Each chapter ends with a number of exercises. In the appendices an extensive questionnaire to test whether someone is highly sensitive and some information about the nervous system. All in all, many exercises and assignments, which are provided with diagrams. Practical and accessible for a broad target group'.
Anja van Mierlo (book critique with the Dutch Library Association)
Order the book (IN DUTCH) here
Price: € 24.95 / 390 pages / Publisher Elikser / ISBN: 978-90-8954-994-5 / Price € 24.95
Anke Weber Smit also give talks, workshops and trainings in which you'll learn more about what high sensitivity is, it's pro's and possible pitfalls and how you can manage them it. Because being (highly) sensitive does not mean that you are an outsider and cannot participate in a society as we currently have.
Interested? Call or email me or look in the agenda
NOTE: We are currently working on an English translation of the 'Expedition High Sensitivity' by developing a Crowdfunding campaign. Help us to realize this dream and show your enthusiasm by sending us an

email

so we can keep you up-to-date about the latest developments!
About the author